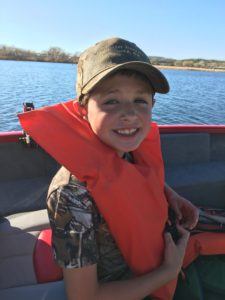 This boy. This smile. This memory, one of a few thousand, I hope. Some of you know that my father (Ralph) passed away in December. Some of you also know of the failures and limitations of Ralph as a father, and my desire to break that chain and to be the Dad to Jason that I wish Ralph could have been for me.
Ralph left a very modest inheritance to his three grandsons, including Jason (who he never met, nor spoke to). I am the executor of his trust. His explicit instructions were for his grandsons to use their inheritance however they wished, in such a way that would bring them happiness. Happiness is something that eluded Ralph during the majority of his life.
This smile, this day, shared with his adoring father, on a small aluminum fishing boat acquired via inheritance from a stranger named "Ralph". It's a smile and a memory that his own father yearned for more than 40 years ago that never happened.
And so the chain is broken.
And this modest little aluminum boat, skippered by this precocious "soon-to-be" 8 year old, with his "first mate" Dad assisting with navigation is the vessel that will carry 10 years – maybe even 20 years – of smiles, memories, tall tails and fish lost. But most of all a little glue to the bond between a father and a son.
Yes, boats are bad investments. Yes, a few thousand could have been added to his college fund in lieu of a stupid boat.
But that smile. These memories. The future memories. The connection that we shared last Sunday, and every other possible day that we can fit in, for as long as he will fish with me in that silly little aluminum boat?
Priceless.
Thank you Ralph.